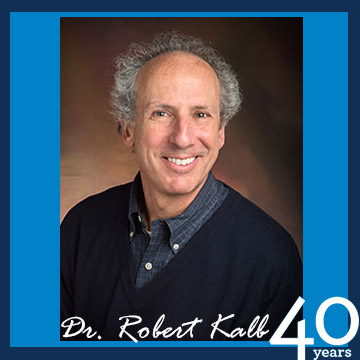 Join us in welcoming Robert Kalb, MD, the inaugural Director of the Les Turner ALS Research and Patient Center at Northwestern Medicine and Chief of Neuromuscular Medicine in the Ken & Ruth Davee Department of Neurology. Dr. Kalb has spent the past 15 years on the faculty of the Perelman School of Medicine at the University of Pennsylvania and served as the Joseph Stokes Jr. Research Investigator and a professor of Neurology and Pediatrics. There, he headed a research lab focusing on the abnormal molecular processes that lead to ALS.

Learn about Dr. Kalb's goals, expectations and hopes for the future of the Les Turner ALS Research and Patient Center at Northwestern Medicine (Center) and ALS:
Tell us about your vision for the Center.
My vision is realistic: the road to a cure is a marathon, not a sprint. It won't just depend on me, it will require the collaborative work of all our efforts over a very long duration of time—but I am extremely optimistic for the future of the ALS community. Taking on this position is an absolute honor. It is an amazing time to seek and understand fundamental problems in ALS and translate them into effective therapies.
What are a few of your long term goals for the Center?
First, I want to ensure we continue to provide the best possible care for those living with ALS. Second, I aim to strengthen our ability to translate observations made in our research labs into patient care, and also utilize those observations to fortify our clinical trial program. Lastly, I recognize the quality research being done at the Center. I wish to leverage our existing partnerships to better connect us to the national and global ALS community.
How do you think your prior experience will aid you in your role as Center Director?
My prior experience has shaped my ability to speak both the 'clinical language' and 'research language.' This skill makes integration between ALS research and patient care more seamless. In discussions with the scientists, I can help them think of ways their research can potentially be applicable to caring for our patients. Similarly, when meeting with the clinicians, I can educate them in regards to specific research in the pipeline—which will prepare them if we translate those research discoveries into new therapies. I'm hoping that with my skill of speaking both those languages, I can encourage improved integration between elements of research and patient care.
How would you define the Center's role in the ALS community?
The Foundation and Center's role in the world of ALS is to be a leader in cultivating partnerships: partnerships with other organizations, other researchers and most importantly, our community.There are very few places in the country, and perhaps the world, that have such strong advocacy efforts and ties to the community like the Les Turner ALS Foundation.
What else would you like to say to people living with ALS and the ALS community?
I am excited and hopeful. We are all working to find answers, but the future depends on everyone's willingness: the willingness of the Foundation staff, individuals at the Center and Clinic, —and most importantly, the willingness of our donors to support the research that leads us to those answers. Through our combined, enduring efforts and integration into the larger community, we will find a cure.